Why the name spaghetti monster?
This print issue looks exactly like it sounds, a big mess of "spaghetti" on and around your print. It is actually extruded filament, which was misplaced by the print head (extruder) because at a certain point during the print the object below moved or collapsed.
If the first layer isn't perfect, the chance of any type of print failure increases.
The most common reasons
The printed object detaches from the print bed during the print
The printed object collapses during the print
An error within the 3D model and/or the sliced file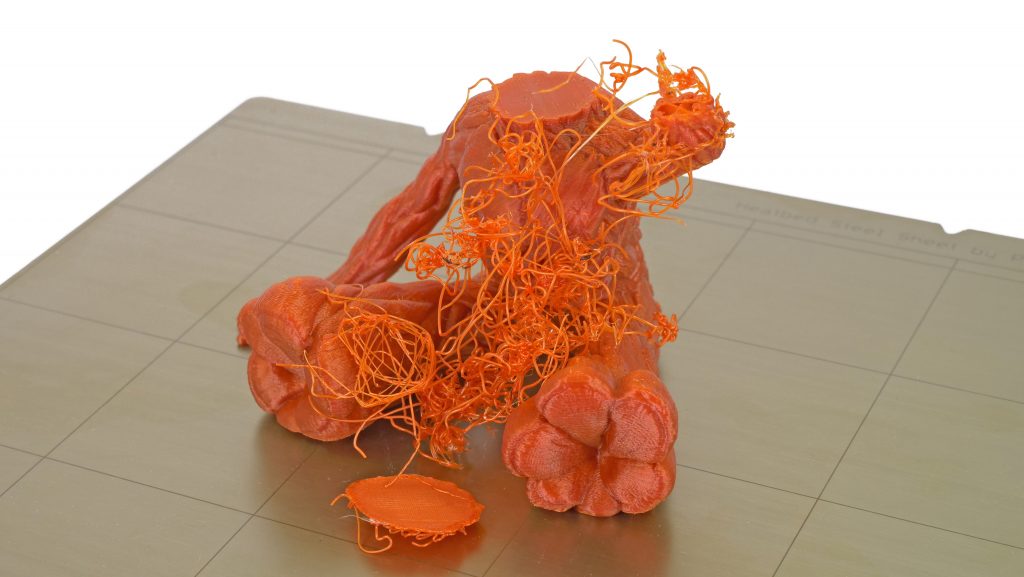 Troubleshooting
Check the first layer – Simply make sure that the first layer is sticking properly to the whole print surface. You can refer to First layer issues.
Check the object for errors – Always check the generated G-code in the Preview of our PrusaSlicer. PrusaSlicer will also display a small warning triangle next to the model should it find any obvious issues. In case you find any gaps or broken geometry, you can either repair the STL object yourself and check our article Corrupted 3D models for printing.
Try to increase the bed temperature – If you have already experienced this error, try to re-run the print and increase the bed temperature by 5-10 °C. This should help with the first layer adhesion. You don't have to re-slice the object and prepare a new G-code. Just start the print, go to the LCD Menu – Tune – Bed, once the mesh bed leveling is completed.