With a brand new high-resolution monochrome LCD, larger print platform, and all cumulative updates from the entire lifespan of the SL1, the new SL1S SPEED is a lightning-fast machine that produces amazingly detailed 3D prints. In this article, we will go in-depth into the differences between these two variants, which on the surface look very similar, but underneath they are very different machines.
New Hardware
Print Display
We replaced the 5,5'' RGB print display with a larger monochromatic display (5,96''). A monochrome LCD is excellent for SLA 3D printers because it offers vastly improved UV light transmission, which means shorter exposure times, better print quality, and faster printing. Monochromatic displays were unfortunately not readily available during the SL1's initial development and subsequent release but were the clear choice for the Original Prusa SL1S Speed. These displays are much more durable, lasting up to 4 times longer than an RGB display before it sees damage from UV light radiation (up to 2000 hours of printing!). This all accumulates to record-breaking print speeds which we have achieved with the SL1S Speed (down to 1.4 seconds per layer!). More on that later..
Print Platform 
To accommodate the larger print display we also redesigned the print platform. This has led to a 25% larger build volume of 127×80×150 mm. That is an increase of 7 mm more on the X-axis and 12 mm on the Y-axis. Even though the previous "flat" design allowed for more resin to fit in the resin tank, we got many requests to add a chamfered top of the platform, allowing uncured resin to drip off more effectively.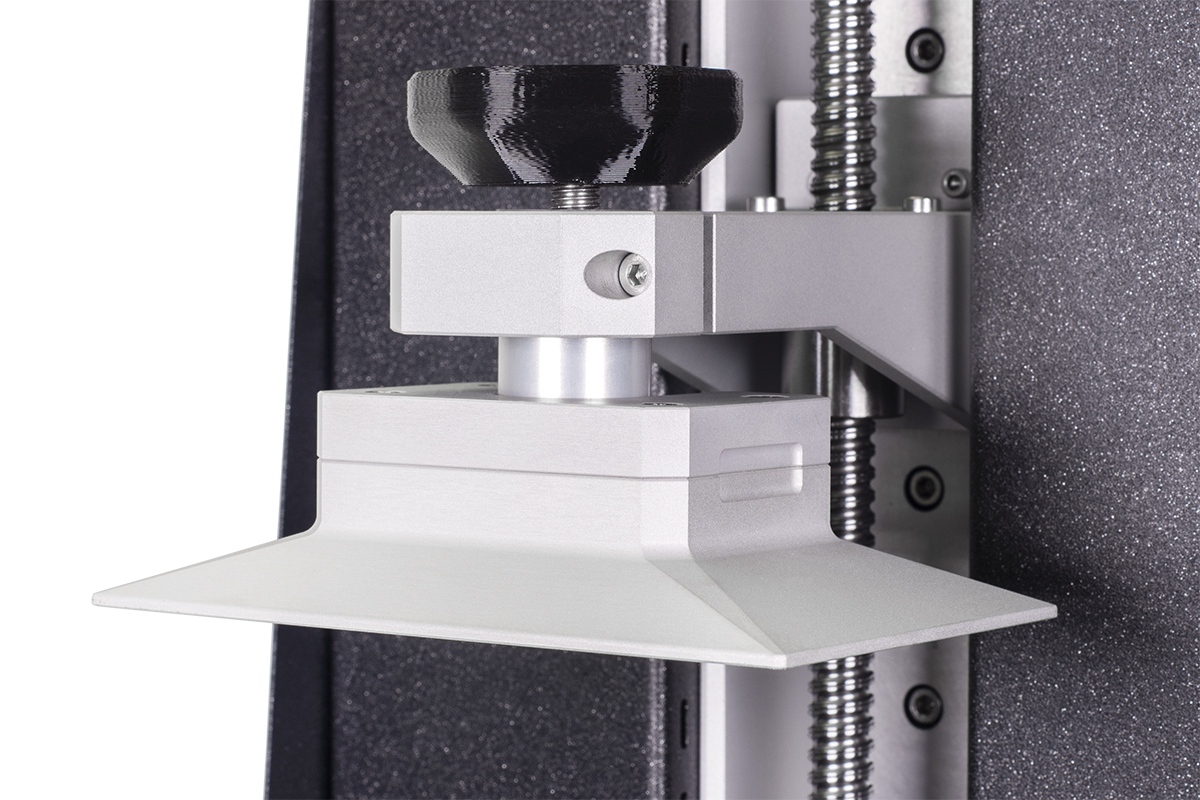 UV led module
With high-speed SLA printing, you need a strong and reliable UV LED source. The initial design of the LED panel with a V-reflector was reliable and strong enough but lacked the power to take print speed to the next level. Therefore, it has been replaced by a larger LED array which is 4 times as powerful and with a custom lens. We also got to use our Prusament PC CF as the LED/lens housing. This allowed for the intensity and uniformity of light needed to reach the record-breaking print speeds. This extra power not only makes printing standard 405 nm resin very fast but opens up for advanced materials which would otherwise not be possible due to substantially longer exposure times (more than 20 seconds per layer). Combined with a beefy heatsink and a new cooling solution, it is a durable and powerful upgrade to the machine. However, there was one more challenge to solve; how to supply enough power to utilize it.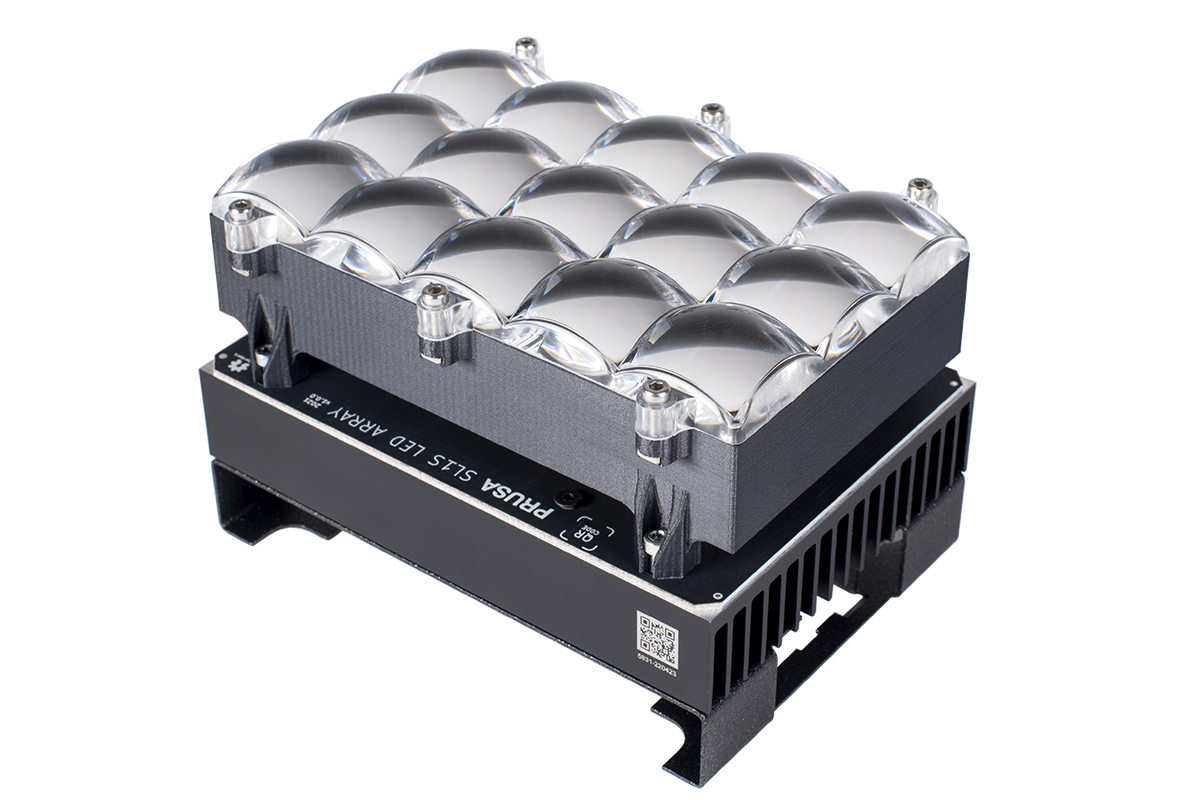 Boost board
To power these new components we had to make some changes to the power delivery system. Using a more powerful external PSU we made room to fit in a "Boost board". This board uses inductors and some clever logic to supply and accurately control an increased amount of current to the LED array module. Therefore, the UV LED module from the initial SL1 is not compatible with the SL1S, simply because they can't take the power provided.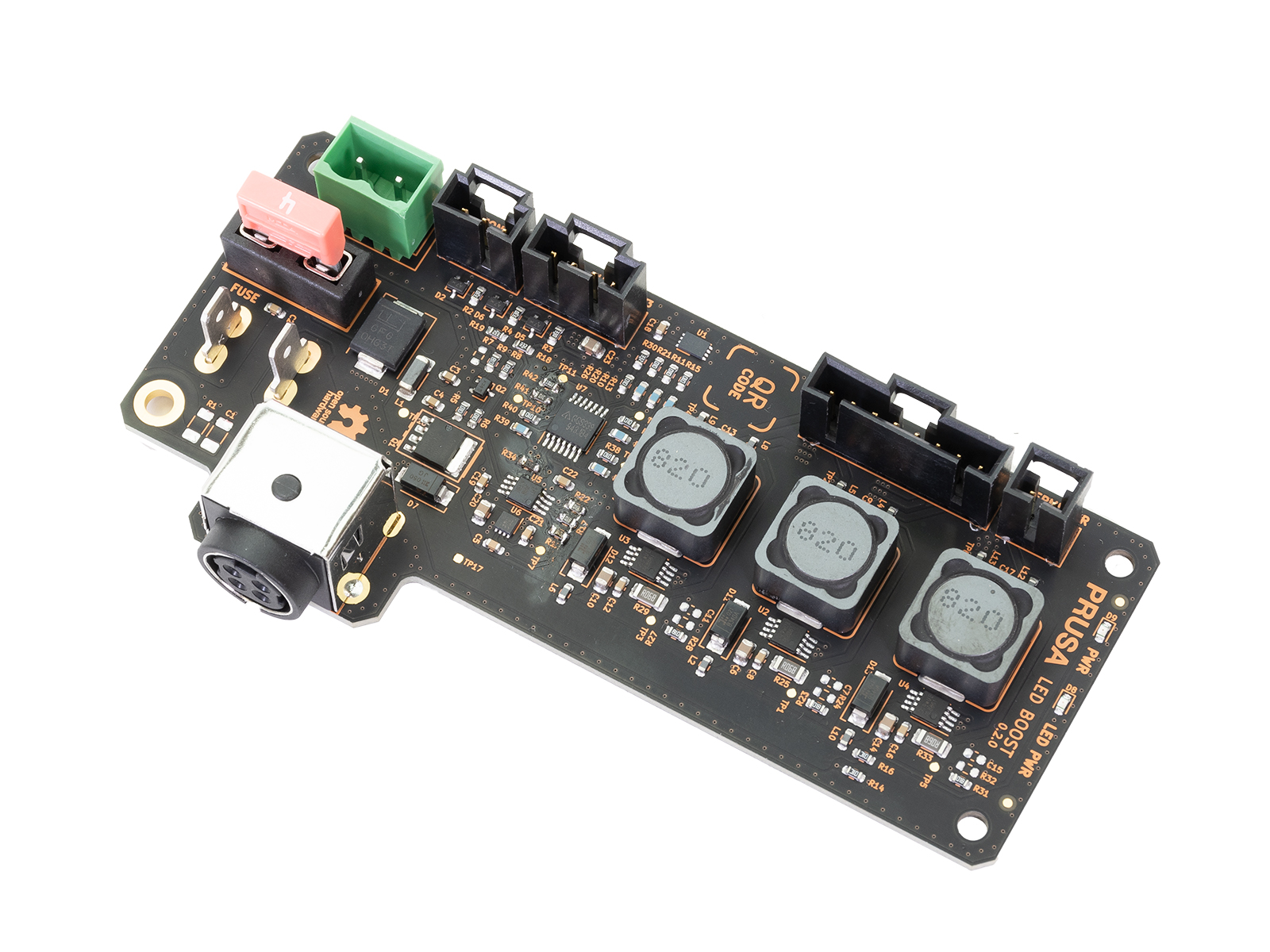 Resin tank
While the initial resin tank was a beautiful piece of aluminum, it was both too small for the new platform and screen and also expensive to manufacture. The new tank is from high-quality graphite-reinforced PA6 (Nylon) composite which is injection molded and costs roughly a third of the old tank, with no drawbacks. It comes with a practical opaque lid, so the tanks are now stackable. The affordable price makes it an option to have several tanks and materials in active use, that you switch between. However, we recommend to empty and clean the tank after every print since tiny bits of cured resin might remain in the tank and can cause damage to the print display. Replacing the consumable FEP film in the tank is still easy and cheap, with no expensive proprietary components.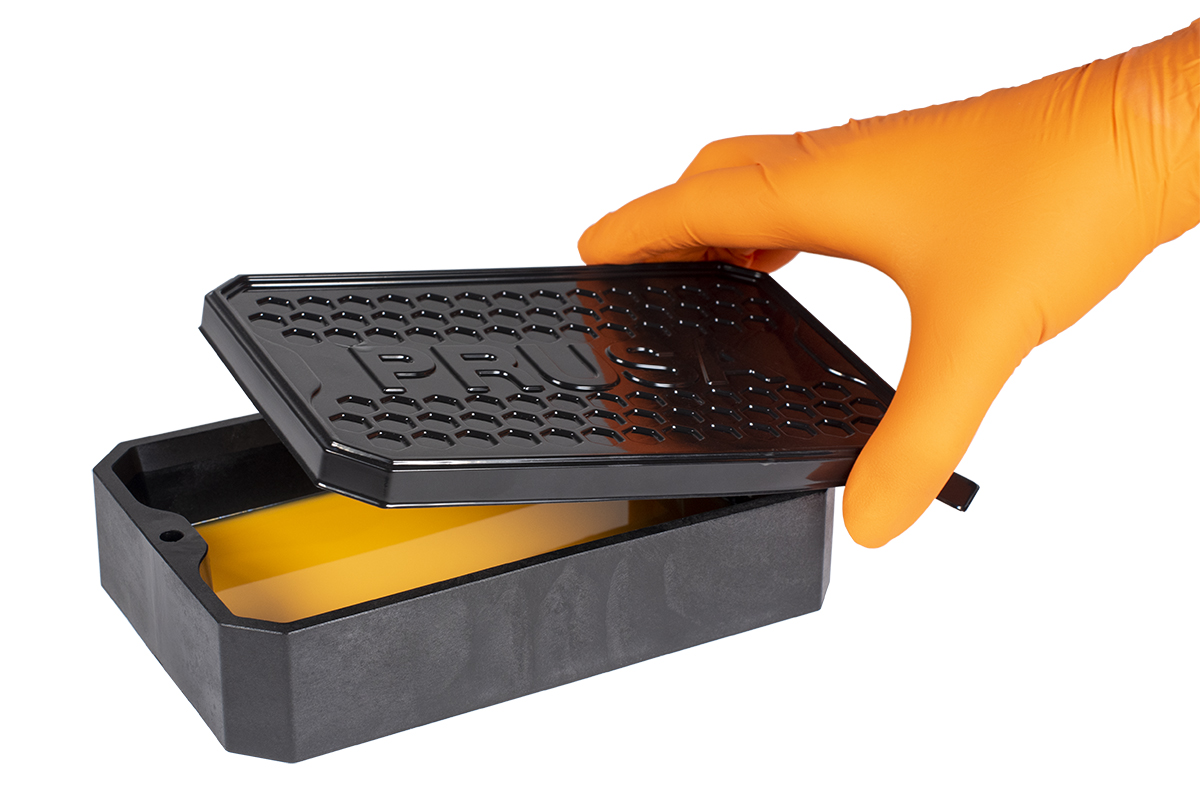 Comparison table
| Feature | Original Prusa SL1 | Original Prusa SL1S |
| --- | --- | --- |
| SLA system | LCD and UV LED panel (MSLA) | LCD and UV LED panel (MSLA) |
| Display type | RGB with V-shaped reflector | Monochrome LCD with a high-performance lens system |
| LCD resolution | 5.5'', 2560×1440p | 5.96'', 2560×1620p |
| LCD lifespan / warranty | 500 hours | 2000 hours! |
| Print area size | 120×68×150 mm | 127×80×150 mm  |
| Layer exposure time | 6 – 8 seconds depending on material and layer height | 1.4 – 2.5 seconds depending on material and layer height |
| Tilt times | 5-8 seconds | 3 seconds |
| Supported layer heights | 0.025-0.1 mm | 0.025-0.1 mm |
| Minimal layer height | 0.01 mm | 0.01 mm |
| Supported materials | Standard UV sensitive liquid resin, 405nm | Standard UV sensitive liquid resin, 405nm, advanced materials supported |
| Connectivity | USB, Wi-Fi, LAN | USB, Wi-Fi, LAN |
If you need to get a replacement for one of the consumable parts for your Original Prusa SL1, like exposure LCD or LED array, we recommend considering
upgrading your SL1 to the S-version
.
Firmware
Anticipating the SL1S Speed, version 1.6.0 saw another 689 commits and 127 bug fixes which resulted in a polished and optimized firmware for this new machine. Most are already covered in our Knowledge Base which is listed and linked below:
QR error codes
One-click print
Advanced Prusa Connect Local
Top bar notifications
Redesign of the settings menu.
Improved OTA firmware updates
Backlight and screensaver control
Print thumbnail support
Improved Log upload
Improved printer statistics
Display exposure-time counter