At the bottom of the LCD menu on the Original Prusa MK2.5/S and MK3/S/+, you will find information on your specific machine's hardware, and firmware as well as real-time sensor inputs, voltages, temperature readings, and more. This section contains valuable information when troubleshooting specific components, or if you need information specific to your unit.
Some of the entries will only be available on the Einsy Rambo (MK3/S/+) and not for the MiniRambo (MK2 and MK2.5/S)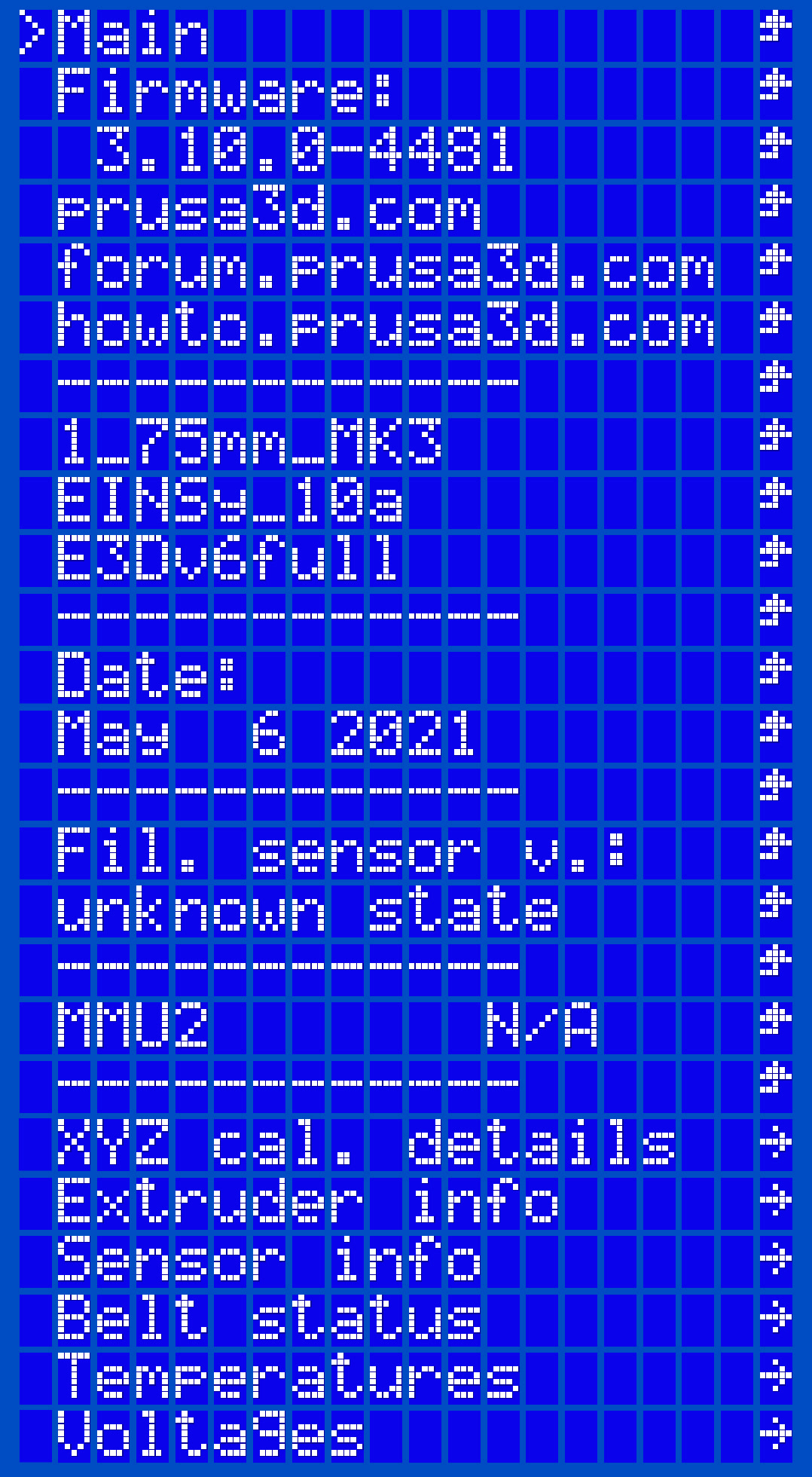 Firmware version
Useful links
EINSY mainboard revision
Fil. sensor state and version
MMU2S presence and firmware
IP (if connected to a network)
XYZ calibration detail
This contains info regarding the length of the axis, skew, and offsets.
Extruder info
Contains the RPM (Revolutions Per Minute) reading from both the Nozzle fan and the Hotend fan
Sensor info
Contains the real-time state (1 or 0) of the printer's filament sensor, PINDA, and FINDA (if MMU2S is installed).
Belt status
Contains the value given to the measurement of the X and Y belt tension. A lower value means a tighter belt.
Temperatures
Real-time readings from the thermistors located on the Hotend, Heatbed, Einsy Rambo (Ambient), and P.I.N.D.A. V2 (Not present with P.I.N.D.A. V1/SuperPINDA).
Voltages
Display the voltage delivered to the EINSy Rambo, Heatbed, and IR filament sensor.