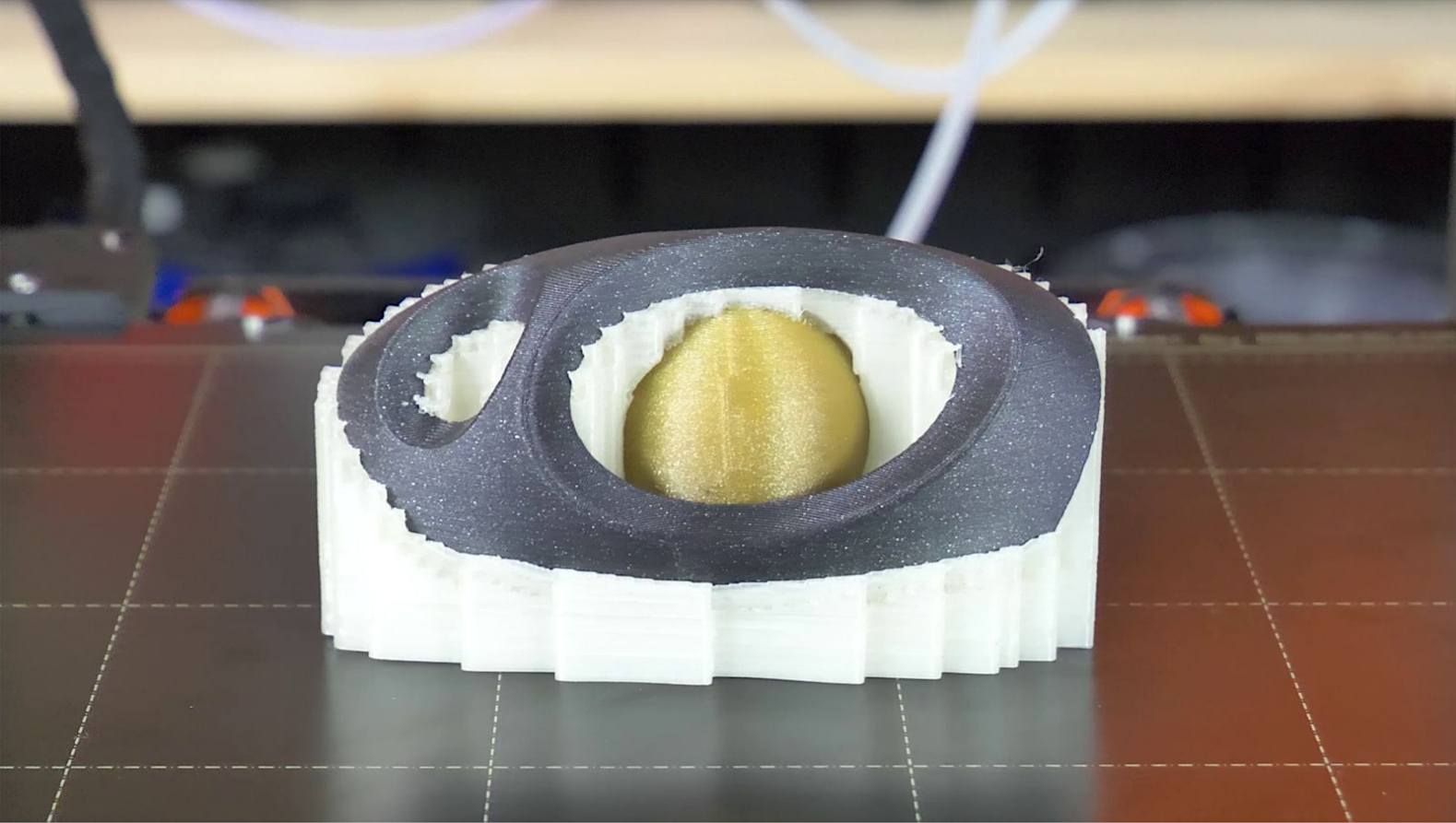 Basic info
BVOH and PVA are special water-soluble materials used mainly for printing supports. The model itself is printed from standard materials, like PLA, and the BVOH or PVA supports are then easily dissolved and washed off after printing. These materials need to be stored in a drybox and printed with a multi-material upgrade (or dual nozzle/extruder). It's a technology more suitable for advanced users.
Recommended nozzle temperature: 195 °C (PVA+), 215 °C (BVOH)
Recommended bed temperature: 60 °C
Heatbed: Smooth PEI and powder-coated satin sheet will provide the best adhesion.
Description
BVOH (Butenediol vinyl alcohol copolymer) and PVA (polyvinyl alcohol) are water-soluble materials ideal for printing supports for models with complicated shapes, where the non-soluble supports would be difficult to remove. The best combination of materials is using PLA with BVOH or PVA, due to their similar printing temperatures. Both BVOH and PVA are very hygroscopic and should be kept as dry as possible. One gram of BVOH is soluble roughly in 20 g (ml) of water. BVOH and PVA are biodegradable non-toxic materials printed with no odor.
Always keep these filaments dry. Wet water soluble filaments don't stick to the surface, are prone to clogging and entangeling in extruder gears.
The main difference between BVOH and PVA is in its printability and price. PVA is usually cheaper but it's more prone to nozzle clogging.. Although both filaments show inferior print surface adhesion, BVOH sticks a little bit better than PVA.
To compare supported material properties, see our material table.
| Pros | Cons |
| --- | --- |
| ✔ Good for printing easily removable supports | ✖ The filament must be kept dry |
| ✔ Low printing temperature (the same as for PLA) | ✖ High risk of nozzle clogging |
| ✔ BVOH & PVA are biodegradable non-toxic materials | ✖ Usable only with multi-material printers |
|   | ✖ Necessity of larger volume of nozzle purging (cleaning) |
|   | ✖ Poor bridging and overhangs |
|   | ✖ High price |
Best use
Water soluble filaments are great for printing easily removable supports.
Tips for successful printing
Print it with PLA
BVOH and PVA are ideally used together with PLA as the material of the main model, because of their similar printing temperatures.
Keep it dry
We recommend making a drybox for filaments that require keeping them as dry as possible.
Adjust distance between supports and the model
The distance between supports and the model in Z-axis should be set to 0mm. This way you will achieve the best results with bottom layers looking almost as great as the top ones.
Try to print BVOH or PVA on PLA raft.
It's optimal to choose models that don't require printing BVOH/PVA directly on the print surface. Or creating a raft (1-2 layers) from PLA is also a good choice - BVOH/PVA sticks much better to PLA than to PEI print surface. More information on this in MMU2S and soluble materials (PVA/BVOH).
Material solubility
Dissolving BVOH and PVA takes several hours, depending on the amount ratio of material and water, and also on the water temperature (warmer is better, but can not be too hot either). Frequent filament changes can lead to printing residual PLA into the soluble supports. This can prevent the BVOH/PVA from dissolving entirely. This effect can be moderated with an increase of purging (cleaning) material.
Sample prints
| | |
| --- | --- |
| | |
| MMU2S print with soluble supports | Printing with soluble materials might be challenging |